1° combo mondial de Stickers
Street Art Event à Duque de Caxias
Combo mondial de stickers!!!
A Street Art Nacional precisa de mais espaço para divulgação de eventos realizados aqui no Brasil e no exterior. O site é aberto a todos os artistas gráficos, buscando uma integração entre todos, sem discriminação sobre estilos, bairros ou qualquer outra coisa.
The Street Art needs more space to publicize events in Brazil and abroad. The site is open to all graphic artists, seeking an integration of all without discrimination on styles, neighborhoods or anything else.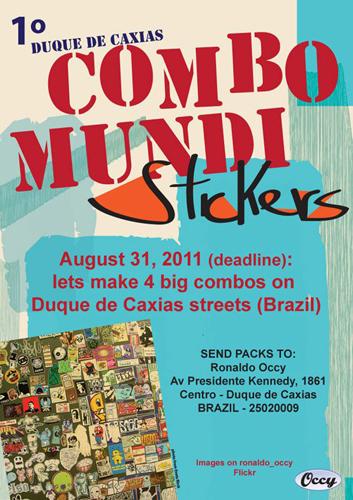 Notícias aos visitantes / News to visitors
O nosso Objetivo é a divulgação de conteúdo ligado a Arte Urbana, eventos e concursos, parcerias com artístas e empresas que queiram contribuir com este espaço. Outro objetivo é fomentar a vontade de serem criados mais coletivos abertos a todos os artistas nacionais.
Our goal is the dissemination of content related to Urban Art, events and competitions, partnerships with artists and companies who want to contribute to this space. Another goal is to foster the desire to be created more collective open to all artists.
ronaldo_occy@yahoo.com.br, http://streetartcaxias.webnode.com.br/
Brésil
Duque de Caixas